This is the second area of Land A, made up of sparse ruins centred around an theatre on an island. As you wander through the ruins, you may see ghosts completing tests that have long fallen to rubble, and even discarded direction signs. Clearly, these tests have not only been going on a long time, but it has been a changing process. Your rewards are

,

,

, and a

.
The Guards Must Be Crazy
 (Reward:

)
Suicide Mission
 (Reward:

)
Hall of Windows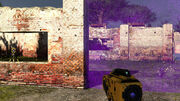 (Reward:

)
There is one star hidden in this area.
Land A